We are really excited to introduce you to DESS® Digital Analogues, the seventh featured product of our product profile series of articles, in which we present our highlighted products, some of the most innovative solutions in the dental sector.
DESS® Digital Analogues | Your best option
DESS® Digital Analogues are the market's leading option to start your digital design and proceed smoothly and accurately, allowing you to get a flawless final prosthesis. Additionally, its dual function allows for its utilisation within analog workflows, and its added features and improvements make it the best option for professionals in the dental industry.
Discover all the Digital Analogue compatibilities and versions available.
Digital Analogues | Features and improvements
Explore the qualities that make DESS® Digital Analogues the best option of Analogue you will find on the market.
Long lifecycle | Re-usability
DESS® Digital Analogues have a long lifecycle thanks to its re-usability, resulting in a lower investment for dental practices and laboratories.
Self-locking design | Maximum Stability
DESS® Digital Analogues have been especially designed to ensure excellent stability in stone and 3D printed models thanks to their self-locking characteristics:
Bottom 1,27 mm hex head screw (included) for safe an accurate placement. The digital locking screw can be ordered in different sockets.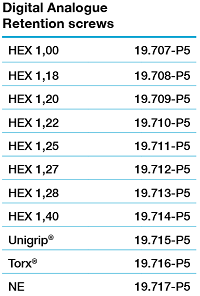 Material and varieties
DESS® Digital Analogues are colour coded, matching the colour scheme from implant brand platforms, minimising the chances of confusion and mix-up. They are either manufactured in Stainless Steel or Titanium Grade V:
Anodised: Titanium Grade V ELI

Non-anodised: Stainless Steel AISI 303
Dual Function
DESS® Digital Analogue can be used in both traditional cement models and 3D printed models.
Precise connection fit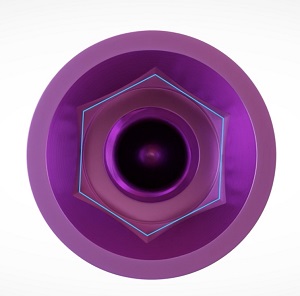 Digital Workflow
DESS® Digital Analogues are available with DESS free Libraries for Exocad®, 3Shape®, DentalWings® & BlenderforDental®, allowing for a smooth and easy digital process in a wide variety of software.
Compatible with 33 Implant systems
NobelActive® & NobelReplacecc, Nobel Replace Select, Nobel Brånemark®, 3i Osseotite®, 3i Certain®, Straumann® Soft Tissue Level & synOcta®, Straumann® Bone Level, Straumann® BLX, Neodent® Grand Morse, Zimmer Screw-Vent®, Astratech Implant SystemTM EV, Astratech OsseospeedTM, Dentsply Friadent® Xive®, Dentsply Ankylos® C/X, Osstem® TS, Camlog®, Conelog®, Biohorizons® Internal, Biohorizons® External, MIS® Seven, MIS® C1, MIS® V3, Megagen® Anyridge, Anthogyr Axiom®, Medentis ICX®, Globald in-kone®, Dentium SuperlineTM & Implantium®, Bego Semados®, Biotech Kontact®, BTI®, Phibo® TSH®, DESS® Multi-Unit Connection, DESSLoc®.
100% Compatible Digital Analogue | The Pure Switch Concept
DESS Dental has integrated The Pure Switch Concept across our full product portfolio, which is based on the principal that all our products are designed to be fully compatible and interchangeable with the implant connection.
If you wish to have more information about DESS® Digital Analogues, head to this product's section on our website or contact us at info@dessdental.com.