The best alternative for removable prostheses
Welcome to another article of DESS® product profile series, in which we highlight some of the most innovative solutions in the dental sector. In this new addition, we are excited to present our fifth featured product: DESSLoc®.
DESSLoc®: The optimal overdenture system
DESSLoc® is a flexible and innovative overdenture solution, especially designed to maximise patient comfort. Its ease of insertion and removal reduces the chances of wear caused by improper seating, therefore making DESSLoc® the definitive removable overdenture system.
Features and benefits
If you want to find out more about DESSLoc®, read its features and benefits below.
Periocoat® surface.
DESSLoc® is improved with Periocoat®, our patented Zirconium Nitride coating that increases strength and improves the overall mechanical performance. Additionally, it facilitates hygiene and helps reduce plaque adhesion and inflammation, lowering the chances of periimplantitis.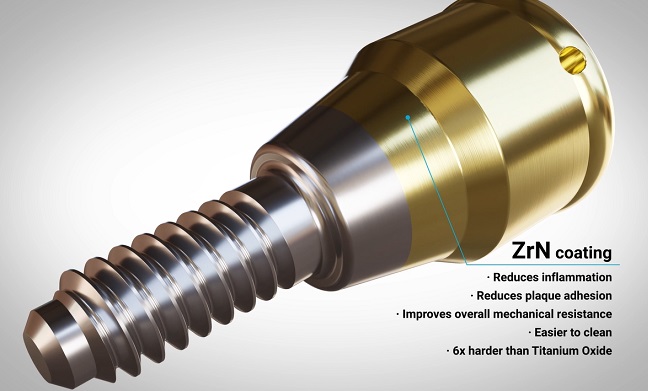 100% compatible with LOCATOR®
DESSLoc® and all components are 100% compatible with LOCATOR® overdenture system.
Compatible with 17 implant connections.
NobelActive® & NobelReplace® cc, Nobel Replace SelectTM, Nobel Brånemark®, 3i Osseotite®, 3i Certain®, Straumann® Soft Tissue Level & synOcta®, Straumann® Bone Level, Zimmer Screw-Vent®, Astra Tech Implant System EVTM, Astra Tech OsseospeedTM, Dentsply Friadent® Xive®, Dentsply Ankylos® C/X, Camlog®, Biohorizons® Internal.

Excellent retention. Easy removal.
DESSLoc® provides excellent retention that facilitates proper insertion of the prosthesis with a wide variety of retention inserts (20º and 40º).
In addition, DESSLoc®'s special hole facilitates removal of the prosthesis.
Insertion, retention and removal of the prosthesis and its inserts is facilitated by DESSLoc®'s PHLOC Tool.

Easy insertion, adjustment and placement.
DESSLoc® includes a transporter that facilitates insertion, adjustment, and placement of the abutment.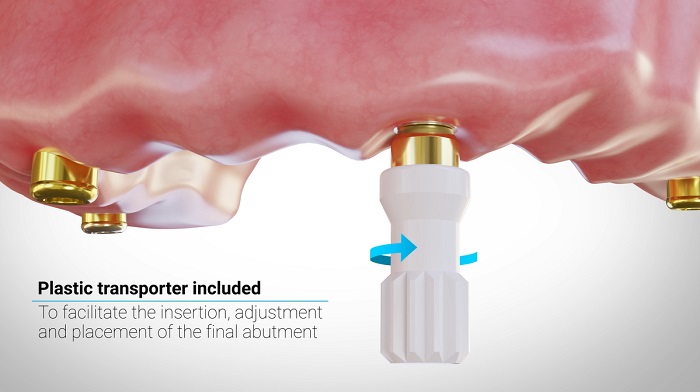 DESSLoc Tool.
The DESSLoc® Tool (DTLOC) gives more control and better torque transmission.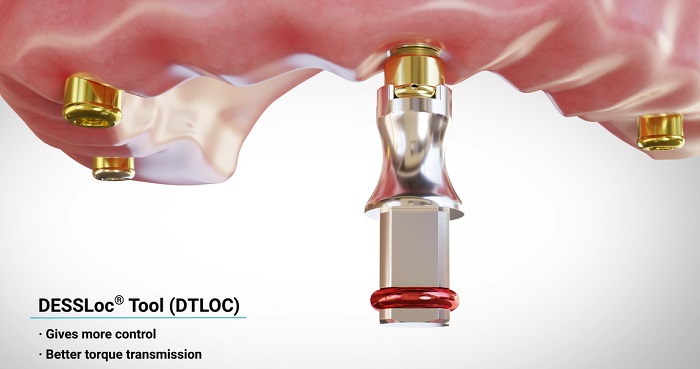 Full assortment of abutments to use in combination with DESSLoc®.
DESS Dental has a wide range of abutments to use in combination with DESSLoc®: Scan Abutments, transfers, Analogue and Digital Analogue, bar attachment and Multi-Unit.
Great resistance and tolerance to masticatory forces.
The masticatory and subjection challenges that a complete removable prosthesis presents, especially on the lower jaw, are overcome thanks to DESSLoc® overdenture system and its excellent retention qualities as well as its great resistance and tolerance to masticatory forces.
Digital Workflow.
DESSLoc® provides an efficient and flexible digital workflow for dental practices and laboratories, being available with DESS® Attachment libraries for Exocad and 3Shape.
100% Compatible DESSLoc® | The Pure Switch Concept.
DESS Dental takes it a step further by implementing the Pure Switch concept throughout our entire product portfolio, assuring that each of our products and their components are engineered to perfectly match the implant connection.
In coclusion, DESSLoc® is the optimal solution for clinical cases that require an overdenture system. With its compatibility with 17 implant platforms, its periocoat surface that improves the overall mechanical performance whilst preventing periimplantitis, and advanced features such as its ease of insertion, adjustment, placement, and removal, DESSLoc® is a versatile and adaptable choice of removable prosthesis that ensures patient comfort.