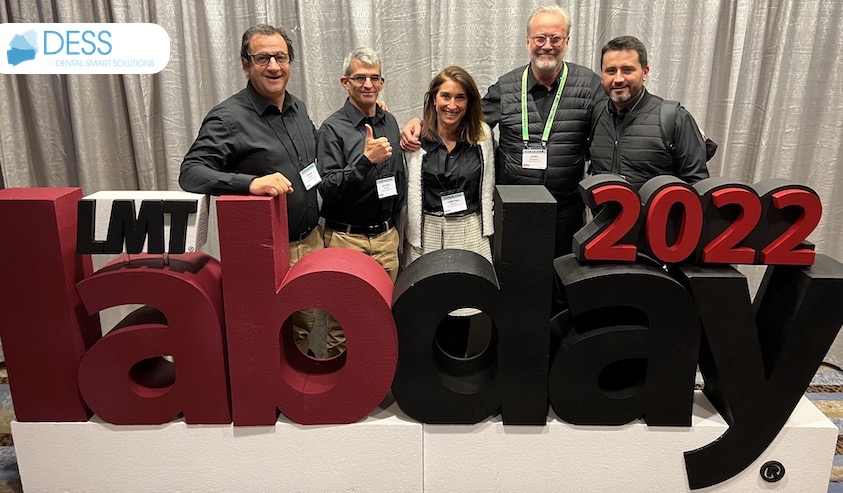 From 24th to 26th February, DESS® Dental has been present at the largest dental laboratory event in the USA: LMT Lab Day Chicago 2022.
After a long time, we have had the pleasure of meeting again with our community of North American dentists and dental technicians. It has also been a pleasure to connect in person with several of our customers, both from the USA and other parts of the world. The fair has allowed us to meet many professionals within the dental sector.
At our stand, you could find a wide variety of products and prosthetic attachments, all of them created under the Pure Switch concept. Among these products were some of our most innovative dental solutions such as AURUMBase®, ELLIPTIBase®, C-Base® and Scan-Abutments, among others.
It is worth mentioning the interesting lecture on Saturday 26th at the event with Evan Chagitz, DMD and Steven Brisman, DMD. The lecture was entitled, "Pre-and post-surgical implant treatment planning: A restorative-driven journey from patient presentation to final restoration." The lecture demonstrated the advantages of using DESS® Dental prosthetic components over OEM parts when fabricating final restorations and gave a better understanding of CAD/CAM protocols and solutions for fabricating implant-supported provisional and final prostheses.
In the pictures is our team at LMT Lab Day Chicago 2022: Roger Terrats (C.E.O), Cristina Cancho (C.F.O), David Torner (C.M.C.O.), Manuel Gomez (C.T.O) and Hans Berglund (Business Development Director).